Hello my friends, I hope you're all doing well. In today's article, I have a Lightroom red tone preset for you to use to edit your photos. With this preset, you can turn any of your photos into something amazing. You can download this preset for free, and if you have any problems downloading it, just leave a comment and I'll help you out.
Lightroom Red Tone Preset Download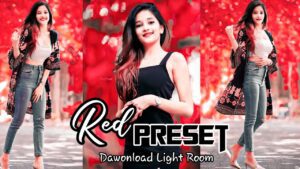 Looking for a great way to enhance your photos? Check out our Red Lightroom Preset This preset will give your photos a beautiful red tone that will make them pop. Download it today and see the difference!
Top 5 Lightroom Presets Download
How To Use Red Tone Preset
First of all open the lightroom
After this add photos and presets to the lightroom
Now open presets in lightroom.
Click on the top right three-dot icon and select the copy settings option
Open the photo in lightroom
Select the paste settings option by clicking on the three-dot icon again
and you are all done
Adobe Lightroom Mobile Requirements
To use Adobe Lightroom Mobile, your Android device must be running on Android Kitkat (4.0) or later. In addition, your mobile must have at least 1GB of RAM and 4GB of free storage space. You can download the latest version of Lightroom Mobile from the Google Play Store. Lightroom is widely considered to be the best color grading software available, and with the Lightroom Mobile app, you can enjoy all the same great features and functions on your Android device.
10 Best Lightroom Presets Download
Download my Lightroom Red-Tone Preset
To download my Lightroom red tone preset, simply click on the download button below and save the file to your computer. Once the download is complete, open Presets in Lightroom. You will see an arrow above. Clicking on the arrow will download the preset into Lightroom for you to use.
Download Stock, Link Bellow
We hope you enjoyed our articles about the Lightroom Red Tone Preset Download. With this knowledge, we know that it is easy to find the latest Lightroom Presets downloads. So what are you waiting for? Download today by visiting MunawarEdits.